Strymon Volante Magnetic Echo Machine Guitar Effects Pedal
Regular price
RM1,660.00 MYR
or up to 3 interest-free payments of

RM553.33 MYR

with
More info
Regular price
Sale price
RM1,660.00 MYR
Unit price
per
Sale
Sold out
Create instant retrofuture atmosphere with evocative vintage delay tones. Activate your imagination with evolving ambient echoes and warm, organic feedback with just the right amount of grit. Sculpt your soundscape in real time as Volante becomes an extension and expansion of your musical instrument. Infuse your pedalboard with stunning vintage vibes that resonate and inspire.
Three Magnetic Delay Types, Reverb, Sound on Sound, and More.
Delivering truly exceptional sound quality and intuitive playability, Volante is designed to radically enhance the sonic expressiveness of your pedalboard. Featuring magnetic drum echo, tape echo, and reel-to-reel studio echo, Volante is a stereo multi-head delay that also offers a Sound on Sound mode and a vintage spring reverb algorithm. Volante's powerful sound-sculpting controls provide limitless sonic possibilities.
To capture the nuance and complexity of classic tape and drum echo machines, every last magnetic delay system attribute was relentlessly studied and faithfully recreated. From the sought-after natural saturation and soft clipping of magnetic media when driven hard, to hands-on real-time controls for mechanics, wear, head-spacing, and low cut, Volante instantly adds tons of vibe to your sound.
Volante provides the full experience and sonic attributes of iconic multi-head echo machines. At the center of Volante's control surface are four delay playback heads with individual feedback, panning, and level controls—delivering unlimited creative options right at your fingertips. All of this range allows the creation of complex rhythmic patterns as well as reverb-like atmospheric textures.
Features
Set Playback Level and Feedback for Each Head.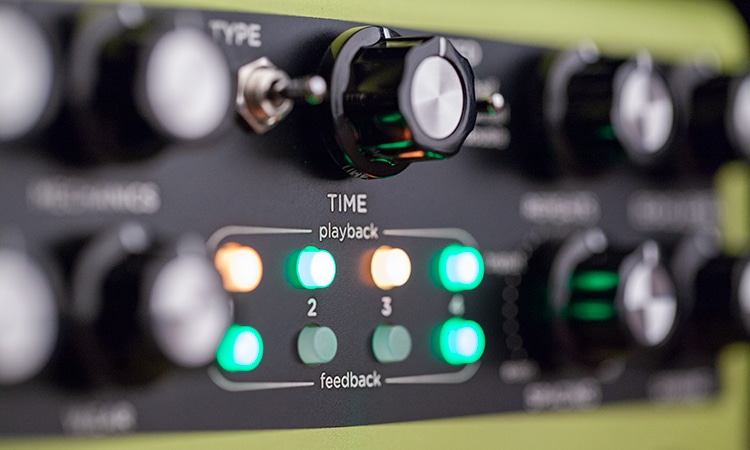 Each head's playback level can be set for full volume, half volume, or off.
Independent of playback level, you can switch each head in or out of the feedback circuit.
You can even switch heads into the feedback circuit that are not activated for playback.
All of this control allows the creation of interesting and complex rhythmic patterns as well as unique atmospheric delay textures.
Magnetic Record Head Saturation.
Not only does Volante deliver the warm, luscious delay signals that magnetic echo machines are known for, it is also capable of a high degree of saturation.
Turn up the Record Level knob to increase the gain of Volante's analog class-A JFET input preamp circuit, sending a hot signal with analog warmth to the record head for any amount of saturation you desire.
Dedicated Spring Reverb.
Some of the classic tape echo machines included small integrated spring reverb tanks tuned to limited bandwidth.
For Volante, we captured this vintage vibe while creating a spring reverb algorithm with a gorgeous, gentle character that stands on its own, in addition to enhancing delayed signals.
Instant Access to Eight Presets.
Even without using MIDI, Volante gives you instant access to eight presets.
The playback/feedback buttons represent preset locations, and you can use the FAVORITE footswitch to recall from or save to any of those eight locations.
Of course, if eight is not enough, MIDI gives you access to 300 preset locations!
Variable Head Spacing.
On some vintage multi-head tape echo machines, the heads were not evenly spaced, which created interesting sonic interactions when multiple heads were set to repeat.
Volante gives you a SPACING control that is adjustable between Even, Triplet, Golden Ratio (for dense, non-overlapping echoes) and Silver Ratio (for non-overlapping repeats biased toward the quarter note).
The spacing between the heads is continuously variable for the entire travel of the SPACING knob, morphing between the available settings.
Independent Stereo Panning for Each Head.
Volante allows you to set the pan of each head individually for spacious multi-head stereo delays.
By default, all heads are panned center, with Volante still creating a pleasing psycho-acoustic stereo image.
Playable Echo Feedback.
Volante really sings when pushed to extremes! When you turn up Volante's REPEATS knob, you get all the richly evolving, super-spacey sonic textures you could dream of.
You also get intuitive and responsive hands-on control for sculpting the feedback.
Volante rewards experimentation, yielding rich, hypnotic, and often unpredictable – but highly musical results.
Three Echo Machine Speeds.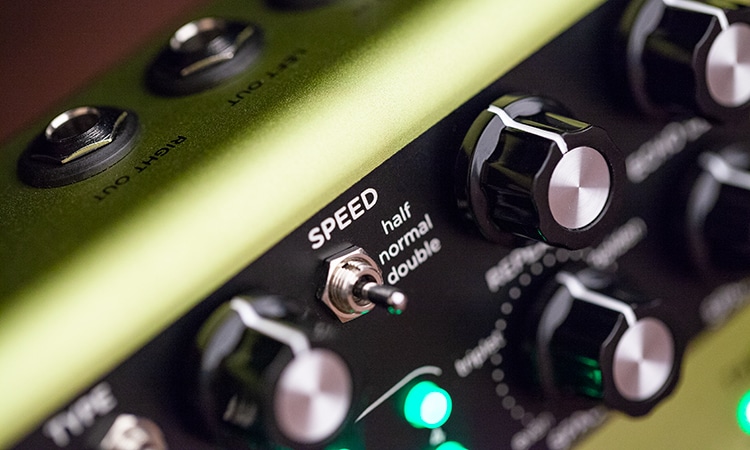 Volante's SPEED switch selects the speed of the recording media and allows you to run any of Volante's three magnetic echo machines at half, normal, or double speed.
Fidelity is higher at higher speeds, while lower speeds result in warmer repeats and more pronounced effects from mechanical and media irregularities introduced when turning up the MECHANICS knob.
Instant Infinity.
Unleash classic psychedelic delay feedback sounds on command.
While performing in Echo mode, press and hold the ON footswitch to activate Infinite Repeats, and regardless of your current REPEATS setting, Volante will crank up the echo regenerations for quickly-building delay feedback.
When you take your foot off the switch, Volante returns to your previous settings.
Sound on Sound with Magnetic Personality.
Create dynamic loops that degrade and evolve. Change loop direction at the touch of a footswitch.
Press PAUSE for a mechanical tape stop effect. Change the speed of your loop and simultaneously change the pitch in octave increments.
Find an inspiring sound in Echo Mode, and all your echoes remain intact when you engage Sound on Sound.
When your loop has reached the perfect state of mutation, you can engage Infinite Repeats to minimize further loop degradation, creating an infinite loop while disengaging the loop record head.
Mirror Universe.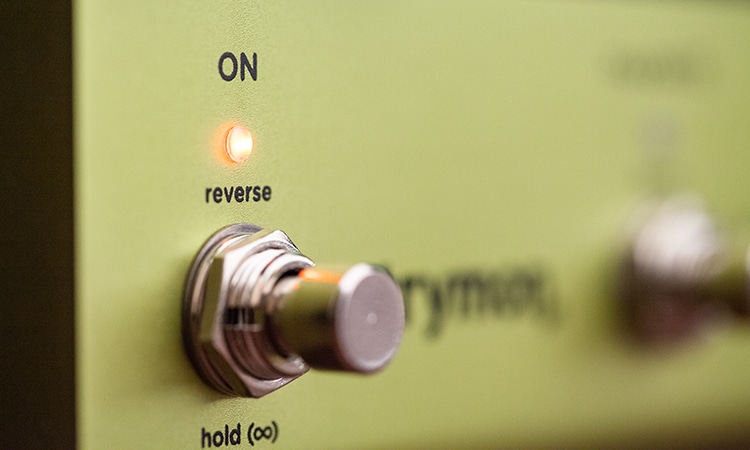 In Sound on Sound mode, press the ON footswitch, and the entire loop length will play in reverse.
You can continue recording new audio to layer with the reversed audio.
Mechanical Tape Stop/Start Effect.
The PAUSE footswitch is part of Volante's faithful recreation of a variable speed magnetic echo unit, with mechanical slowdown when pausing and mechanical speedup when coming out of pause.
The speed of this mechanical slowdown/startup effect is user-definable.
Core of your MIDI Rig.
With full MIDI control of every parameter plus 300 preset locations, Volante is designed to be the center of sonic expressiveness for your MIDI pedal board.
Let Volante provide the inspiration, and the possibilities are as unlimited as your imagination.
Volante transmits and receives MIDI over 5-pin DIN, USB, and even the Expression jack (via 1/4″ to MIDI cable)—perfect for your pedal board or in your studio.
Morphing expression control.
Connect an expression pedal and enjoy a whole new level of instantaneous, continuous control.
Set as many knobs as you like for the heel position and toe position of your expression pedal, and all settings will simultaneously morph throughout the full range of the expression pedal.
Dedicated Instrument/Line Input Level Switch.
Volante offers an input level switch to work perfectly with a variety of input sources.
Set the switch to the INST position when using a guitar level input.
Set to LINE when using Volante in the effects loop of a guitar amp, or when driving Volante with a hot output from a synth or mixer insert.
The LINE input mode is also perfect for using Volante as a send effect or insert effect in the studio.
Additional Control with MultiSwitch Plus.
Connect MultiSwitch Plus to Volante's Expression Pedal jack for additional footswitchable control.
Use MultiSwitch Plus to select between three presets, remote control of the SPEED switch, remote transport control, or for additional foot control while in Sound on Sound mode.
Completely Analog Dry Path.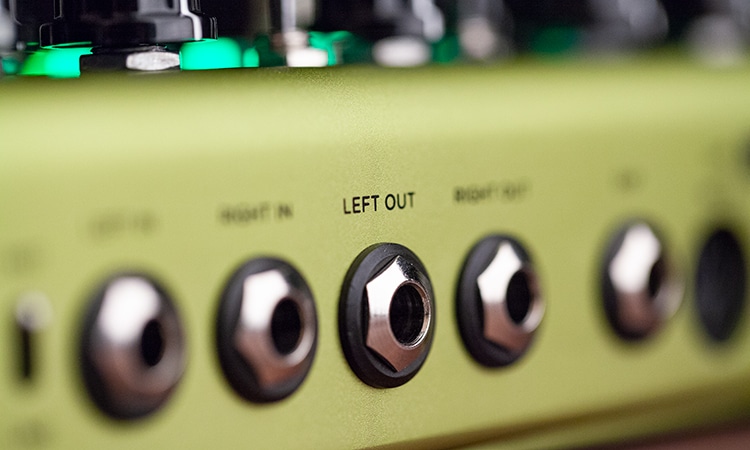 In a typical digital effect the dry signal gets converted to digital, causing conversion noise and latency. Signals are often attenuated before combining digital dry and wet, with makeup gain amplifying the conversion noise. To avoid this, we've equipped Volante with a completely analog dry path, featuring all-analog, ultra low noise, discrete, class-A stereo JFET preamps. Volante is truly a studio-quality effect.
We've outfitted Volante with the incredibly powerful Analog Devices SHARC ADSP-21375 processor, which provides a 266 MHz core instruction rate, and an incredible 1.596 Gigaflops of peak performance. Thanks to this high-powered technology platform within Volante, we had the freedom to craft our processor-intense echo algorithms without compromise.
Specs
Multi-head magnetic media delay machine providing four playback heads with individual feedback, panning, and level controls
Processor-intense algorithms deliver meticulously nuanced recreations of vintage magnetic echo systems (drum echo, tape echo, studio reel-to-reel echo)
Dedicated control over echo machine tone and media: Low Cut, Mechanics, Wear
Input Record Level for clean reproduction to warm, fat saturation
Independent Spring Reverb
Sound on Sound looping mode (mono) with reverse, pause, splice, and infinite repeat functions
High impedance stereo input
Stereo output
Input Level switch allows for both instrument and line level signals
On, Favorite, and Tap Tempo footswitches
Expression pedal input allows the connection of  an expression pedal, external tap pedal, 1/4″ to MIDI cable, or MultiSwitch Plus.
Full featured MIDI in/out supporting MIDI CCs, program changes, and more
USB jack for controlling MIDI via computer
Analog dry path for a zero latency dry signal that is never converted to digital
Premium JFET analog front end
Ultra low noise, high performance 24-bit 96kHz A/D and D/A converters provide uncompromising audio quality
Super high performance SHARC DSP
32-bit floating point processing
20Hz to 20kHz frequency response
Audio Input Impedance: 1M Ohm
Audio Output Impedance: 100 Ohm
True Bypass (electromechanical relay switching) or selectable transparent Analog Buffered Bypass
Strong and lightweight anodized olive green aluminum chassis
9V DC power supply included
Power requirements: maximum 9 volts DC center-negative, with a minimum of 300mA of current
Dimensions:

4.5″ deep x 7″ wide x 1.75″ tall
114.3 mm deep x 177.3 mm wide x 44.5 mm tall

Designed and built in the USA
Share